Welcome to Harley Antiques! Use the navigation links on the left to surf our site.
Be sure to visit our new websites devoted to our art collection!
Pacific Coast Fine Art
(www.pacificcoastfineart.com)

Fine Art of California
(www.fineartofcalifornia.com).
Located in the heart of Shasta County, Harley Antiques offers a wide range of genuine museum quality antiques at barn sale prices.

Harley Antiques offers a little bit of everything from clocks, glass, knives, postcards, Native Americana, collectibles, memorabilia, and Coca-Cola to yard art, classic cars, motorcycle parts, toys, art, kitchen stuff, vintage fishing items, bottles, steins, hurricane lamps, and much more!
We particularly like California art, and are developing quite a collection of artists!

Click on the links on the left to see the other pages of the website. Eventually, the entire store will be available online, but for now you can find directions to visit us in the links to the left.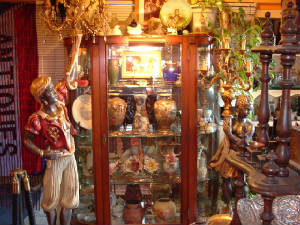 Large Blackamoor Candelabra $12,000.
Please call for details.
I Buy, Sell, Trade!